St Dunstan's Dental Practice
Meet our team
Our Clinicians and more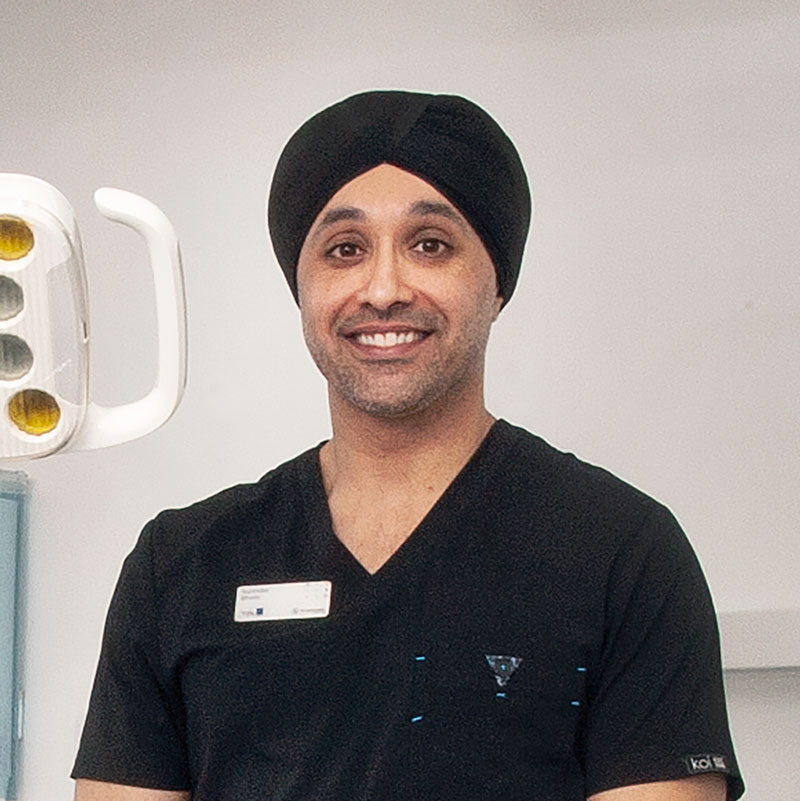 Surinder Bhatti
Dental Surgeon
BDS 1999, MFDS RCS (Eng), MFGDP (UK) MGDS RCS (Eng), Dip DHSLM RCS (Eng), GDC 76525
Surinder joined St Dunstan's in 2010 to become the joint owner of the practice in 2011.
Surinder is a former tutor and lecturer to post graduate dentists when he worked in London. He is an appointed examiner for both The Royal College of Surgeons of England, The Faculty of General Dental Practitioners (UK) and The National Examining Board for Dental Nurses. Surinder is also a member of the Society for the Advancement of Anaesthesia in Dentistry (SAAD) and the British Society for General Dental Surgery.
Surinder's areas of special interest are in restoring complex dental problems, implant dentistry, cosmetic dentistry, Invisalign clear braces and treating nervous patients using conscious sedation.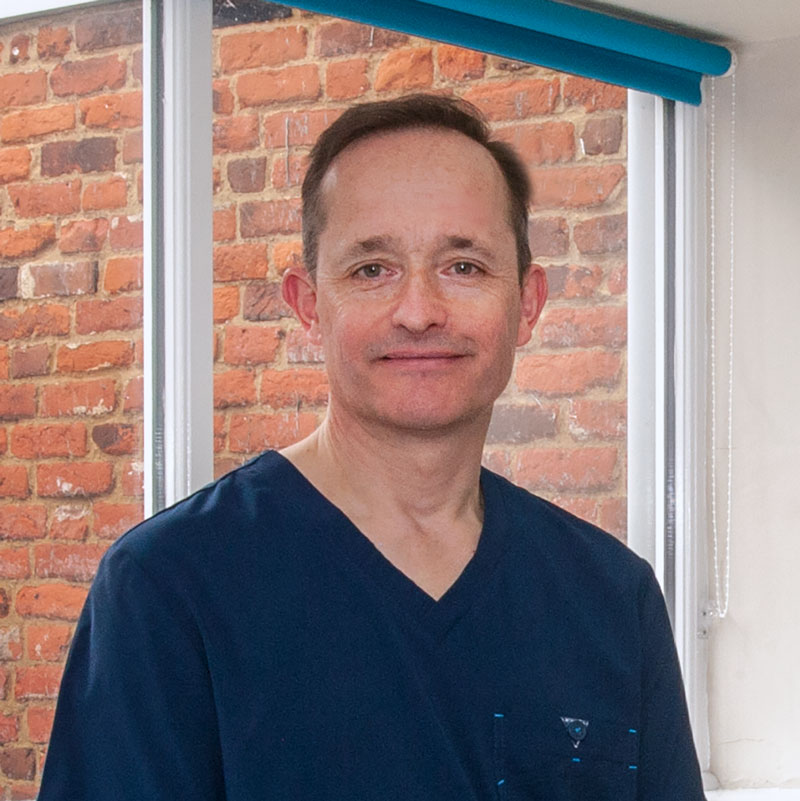 Ian Small
Dental Surgeon & Specialist in Prosthodontics
BDS 1987, LDSRCS, MFGDP, MSc, MRDRCS, GDC 62993
Ian moved to Kent, joining the practice in 1994 and becoming part owner in 1998. Having completed a Masters degree which was awarded with distinction and the Membership in Restorative Dentistry examination, he was accepted onto the Specialist List in 1998. He held a post as a part time lecturer teaching undergraduates at Guy's Dental School for six years.
His main interest is in the restoration of complicated problems involving worn dentition and missing teeth and has been working with dental implants since 1993.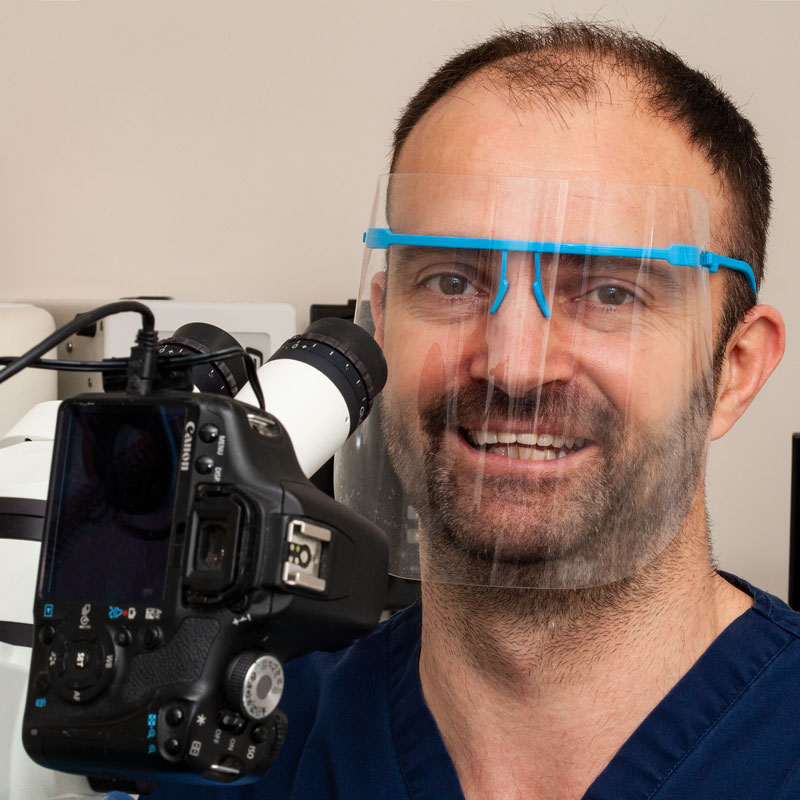 Steven Williams
Dental Surgeon & Specialist in Endodontics
BDS 1998, MFDS RCPS, M Clin Dent, MRDRCS, GDC 74966
Steve graduated from Guy's dental hospital in 1998 then worked in a number of training posts in Oral Surgery, restorative dentistry, orthodontics and general dental practice before following his particular interest in endodontics. His four year specialist training took place at Guy's Hospital, London under the guidance of Professor Pitt Ford, during which he gained a Masters in clinical dentistry with distinction and the Membership in Restorative Dentistry from the Royal College of Surgeons.
With his experience and training, Steve is registered as a specialist in Endodontics with the General Dental council and now spends his time in practice limited to endodontics and also teaches at King's Dental Institute to help train future specialists.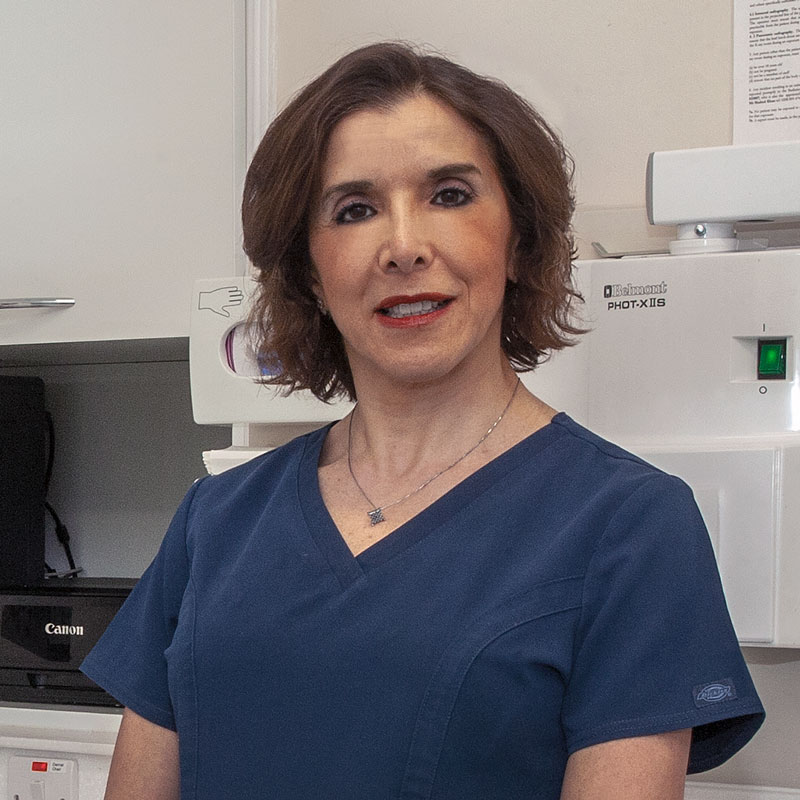 Aisha AlShawaf
Dental Surgeon & Specialist in Oral Surgery
BDS 1986, FDSRCS, MFGDP, Dip Imp Dent RCS, GDC 72889
Aisha graduated in Iraq in 1986 and has worked in the UK since 1992. She spent 11 years working in hospital oral surgery services, gaining the Fellowship of the Royal College of Surgeons of England and was accepted onto the Specialist list for Oral Surgery.
She worked for three years at the Edinburgh Dental Institute before joining us here in Canterbury in September 2000 as an associate dentist.
Aisha continued with her studies becoming a Member of the Faculty, she also works as an Oral Surgery Specialist at the Kent & Canterbury Hospital.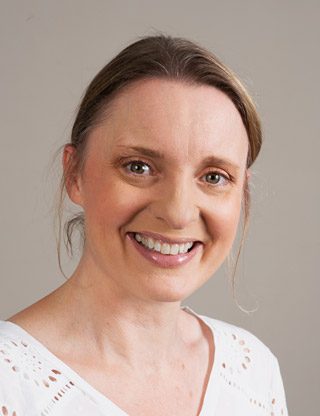 Suzannah Stewart-Stanton
Specialist Orthodontist
MOrth RCS (Edin) 2008, MScD (Cardiff) 2008, MFDS RCS (Eng) 2003, BDS Hons (Sheffield) 2001, GDC 79478
Suzannah had aspirations to become an Orthodontist from the age 11. She qualified as a dentist in 2001, with honours from the University of Sheffield and following her graduation spent a number of years working in the Paediatric Dentistry and Oral Surgery departments within the hospital dental service. Suzannah then underwent a 3 year specialist training programme at Cardiff University and in 2008 realised her childhood ambition when she was awarded a Masters of Science degree in Orthodontics and the Membership of Orthodontics from The Royal College of Surgeons of Edinburgh. She is on the General Dental Council's Specialist List for Orthodontics.
Suzannah treats both children and adults with a range of appliance systems including conventional fixed braces, removable and functional appliances, Invisalign and aesthetic brackets. She is passionate about providing high quality treatment, creating beautiful smiles for all her patients, and is often complimented for her friendly, caring approach. Suzannah feels privileged everyday to be doing a job she loves.
In her spare time Suzannah enjoys playing the piano and spending time with her 3 young children and the family's many pets.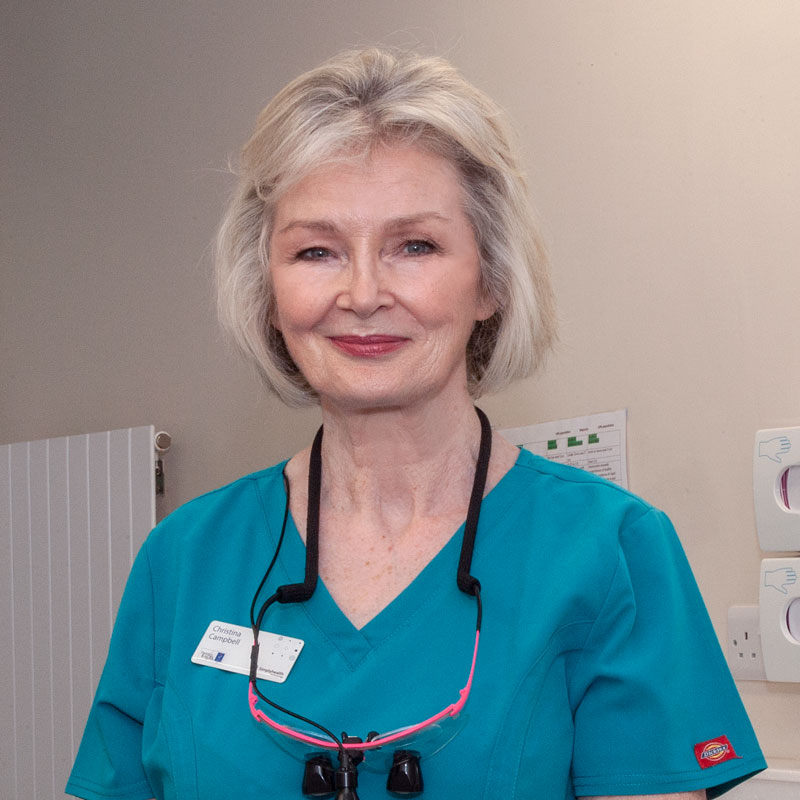 Christina Campbell
Dental Hygienist
RDH 1974, GDC 1154
During the final year of a multi-lingual business course in Edinburgh, Christina had so many appointments at the Dental Hospital that she eventually ended up enrolling as a student. She qualified as an hygienist in 1974 and worked for many years with specialist periodontists in and around London's Harley Street before seeking the fresher air of Kent and joining us here in Canterbury in 2001. She is particularly interested in looking after patients who are a bit nervous and her good humour and "lightness of touch" are well appreciated.
During her free time you will find her battling with her garden, doing DIY or walking her dogs on the Crundale Downs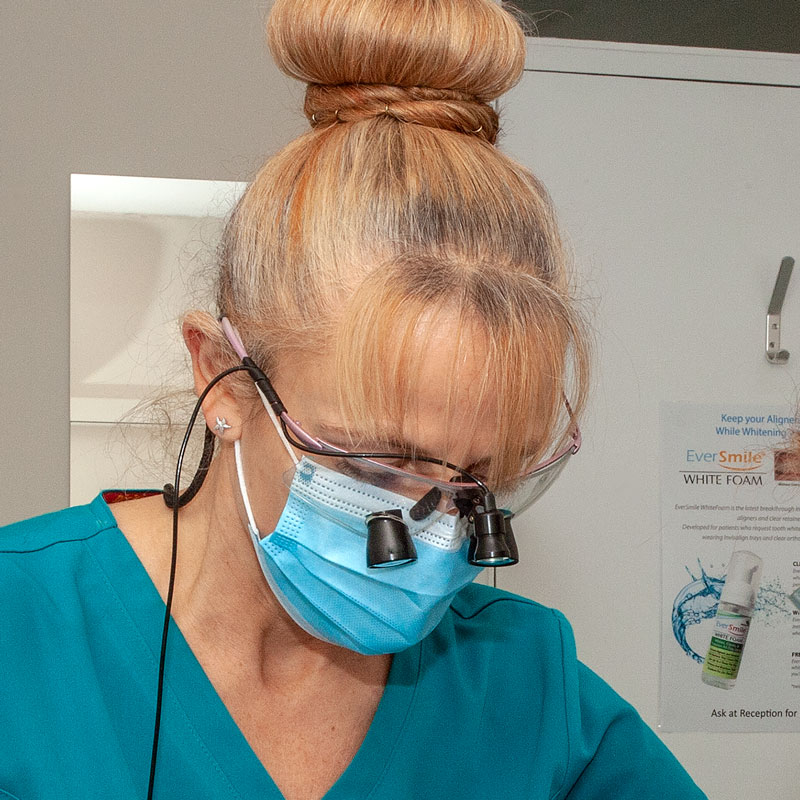 Sam Davidson
Dental Hygienist
RDH 2000, GDC 5664
Sam returned to Kent after 24 years in the Royal Army Dental Corp to be nearer to family and her daughter's school. She brings with her, a wide range of skills and experience both in treating her own patients and also in teaching and managing services. She has worked closely with Periodontists and other specialists and enjoys treating both adults and children.
As a teacher, her roles have included being a dental nurse instructor and Examiner for the Dental Nursing Board as well as presentations to groups in schools and on a one-to-one basis with individual patients. She has pioneered several successful smoking cessation clinics and a weight management clinic.
She loves to see patients improving their dental health and constantly seeks to learn new ways to support this including qualifications in tooth whitening, Oral Health Education and Smoking Cessation Counselling. Sam has training in Neuro Linguistic Programming to help patients who are nervous or phobic.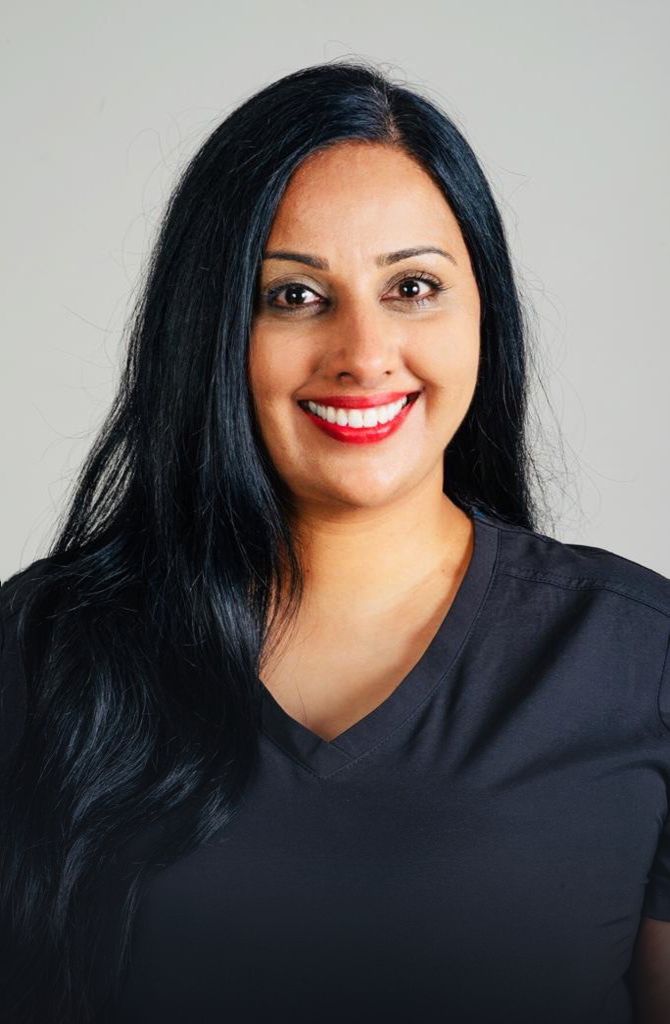 Arwinder Bhatti
Dental Hygienist
RDH 1996, GDC 5149
Arwinder qualified as a dental hygienist almost 25 years ago from Guy's Dental Hospital in London in 1996 and brings a wealth of experience to St Dunstan's. She is a caring clinician who provides a bespoke service to all her patients.
Having trained as a hygienist in both the UK and Canada where she was brought up during her formative years, she has gained the best of both teaching programmes. She has experience of working in private dental practices in Canada, London and Kent.
As well as keeping abreast of the rapid developments within periodontology, Arwinder has an interest in psychology and patient behaviour management. She has supplemented this by completing courses in life coaching, cognitive behaviour therapy and mindfulness. She uses her knowledge in these areas to help motivate her patients in a structured manner so that they can achieve optimal oral health.
Outside of work, Arwinder is part of an initiative that volunteers in local areas working on community schemes. She also enjoys taking her dog Leo for walks in the countryside with her family.