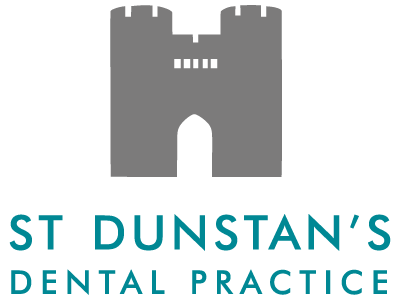 A Better Dental Experience
General, Specialist, Cosmetic, Orthodontics and Restorative Dentistry
Find Us
55 St Dunstan's Street, Canterbury, Kent CT2 8BS
Maintaining a Reputation for Dental Excellence for Over 50 Years
Welcome to St Dunstan's Dental Practice and Specialist Referral Centre
Whether you are looking for a caring and ethical dental practice for your family, or a dental specialist to treat a particular problem, then take a look inside our practice to see how we can help. From simple advice through to specialist treatment we can offer you an excellent standard of care, drawing on our extensive experience, knowledge and skills.
Located in the heart of Canterbury, we provide the full range of modern dental care utilising the latest technology with a focus on prevention and maintaining healthy smiles for life.
We are proud of earning a reputation for high quality dentistry amongst patients and referring dentists. All of our clinicians are registered specialists or have advanced dental qualifications and they all receive referrals from other dental practices throughout Kent and the South East.

Got an Emergency?
If you require emergency dental treatment, please click below for details and advice.
"Really lovely staff who listen to you and try to help rather than take the high road of 'I know best'.
Couldn't be happier with the service
"I needed a wisdom tooth removed and was referred to St Dunstans by my own dentist. I was very impressed with the service. Aisha AlShawaf did the extraction and made it quick as possible and completely painless.
Even though I was quite anxious about it, there really was no need, as I was made to feel comfortable and relaxed. Thank you.
"This is a wonderful dental practice. Dr Bhatti is not only a brilliant dentist, but is also very kind, patient and reassuring.
Everyone at the practice is excellent, well trained and welcoming.
"Steve was so lovely and welcoming. He did a great job on my faulty root canal (of which I received at a different dentist practice).
Very happy
"All the staff at St. Dunstan's are superb – they are friendly and professional and always very helpful in emergencies.
I wouldn't want to entrust my ancient gnashers to anybody else!
| | |
| --- | --- |
| Monday | 9am-5:30pm |
| Tuesday | 9am-5:30pm |
| Wednesday | 8am-5:30pm |
| Thursday | 9am-7pm |
| Friday | 9am-5:30pm |
| Saturday* | 9am-5pm |
*One Saturday per month, subject to appointment
St Dunstan's Dental Practice is a leading referral centre in Kent. Our clinicians are highly qualified, widely respected and use modern techniques with the latest equipment. We work with dental professionals all over Kent and the South East to provide high-quality specialist services in Restorative Dentistry, Implants, Sedation, Endodontics and Oral Surgery.
To find out more about our treatment list, don't hesitate to get in touch with our friendly team.
Keep up to date with the St Dunstan's news.
Whether it's new innovations, special offers, new ideas, practice team updates, or even a bit of science or topical dental news …..you'll find it all here in our latest blogs.
Frequently Asked Questions
You can find the answers to some of the things that patients often ask us about. Feel free to contact us at any time. Our highly trained team will be happy to help with all your queries.
Is my dentistry affordable?
Where treatment is required our fees represent exceptionally good value and these are the reasons why:
They reflect the highly skilled team of dental professionals that will look after you. All of our clinicians have invested considerable time in pursuing advanced post graduate training with the prestigious Royal Dental Colleges over and above their dental degrees.
The philosophy of our dental team is dedicated to providing the highest quality dental care and effective, long lasting dental solutions. In the long term, good quality, preventative, dental care will lead to significantly less time in the dental chair which will effectively reduce patient costs dramatically.
You have a team of clinicians who provide personalised care with a focus on prevention, advice maintenance and education. Their aim is to help to try and prevent dental problems.
We will only use the best quality of dental materials and components that we have thoroughly researched and investigated as being suitable for a practice that has always aspired to excellence in dental care.
We invest in the latest dental equipment manufactured by the most well-known manufacturers who have the best track record in their fields.
We invest in recruiting and training a superb team of staff who are crucial in supporting the clinicians in providing the best dental care in a caring and considerate manner.
For complex treatments that may span a long period of time payment can be broken down into manageable stages. Unlike some dental practices we do not take treatment fees up front and rather you pay as you go along for each appointment as you complete a treatment plan.
We also offer our patients the opportunity to sign up to the Denplan payment scheme. This is an easy way to spread the cost of your dental care into affordable monthly payments starting from only 55p per day to maximum of £1.98 per day depending on your dental needs.
Contact our reception team to find out more about Denplan and how this may help you with your dental costs or go to denplan.co.uk for more information
How do I find you?
The practice is located in St Dunstan's Street in Canterbury, a short walk from the Westgate Towers at the bottom of the High Street.
By Car:
We have good, nearby links to the A28 for Ashford, M20 and Thanet and are very close to the A2 (Leading to M2) for links to London and the rest of the South East.
Parking: There are many streets around the practice that offer 2 hour metered parking, including directly in front of the building. If you walk a little further down Roper Road (directly opposite the practice) you will find free 4 hour, parking bays. Similarly if you park along the Whitstable Road there are plenty of 4 hour and unrestricted parking options within a 10 minute walk.
Carparks:  The closest public car parks are available nearby in Station Road West and North Lane.
By Bus:
We have a bus stop conveniently located adjacent to St Dunstan's Church, a 3 min walk from the practice which is served by many routes from Canterbury city centre, Herne Bay, Tankerton, Whitstable, Blean, Rough Common and the University of Kent . (link to canterbury bus map routes)
By Train:
We are about a 5 minute walk from Canterbury West Station which is served by the high speed train network. (see map below)
We are about a 20 minute walk from Canterbury East Station.
What should I expect at my first visit?
Your Initial Consultation visit is one of the most important appointments that we can offer and we aim to make it relaxing and informative. Your first visit at a new clinic can often be daunting, but this appointment is the perfect opportunity for us to get to know you a little and for you to be welcomed into our practice and to get a feel for how we look after our patients. We always take great care in listening to your needs and we will always tailor our treatment specifically for you.
We will always do soft tissue and head and neck cancer screening. We will examine your teeth and gums. We will do baseline charting of your teeth to record what treatment you may have had in the past and we will take diagnostic radiographs. We take in consideration your general health status and try and give tailored advice and useful tips on maintaining a healthy lifestyle which will impact positively on your oral health.
We have consultation areas within our treatment rooms and will show and discuss with you any findings and all associated treatment options. Whether it be to do with teeth, missing teeth, gums or your smile, ultimately the focus will always be on health and what the patient wishes to achieve. We will always balance your desires and dental needs with what can be achieved predictably and with a high level of success.
Will treatment hurt?
Keeping things healthy and well maintained is the first, and most important, step towards a pain free dental life. Where treatment is required, experienced  dentists will use local anaesthetics administered correctly. We will never continue if a patient asks us to stop and we will always communicate with you throughout your treatment to ensure you are comfortable. In short we will always strive to provide pain free dental treatment. Simple over the counter pain killers are generally adequate to manage any post-operative discomfort, even for more complex treatments such as placing dental implants.
Don't be afraid to discuss with your dentist your concerns about pain or discomfort during and after dental treatment. You are not alone. We can also provide sedation services for those patients that have a phobia about dentistry, suffer with gagging, claustrophobia, or need to undergo a long or complex surgical procedure.
Ignoring dental problems and allowing issues to get worse is not the right solution. There is no denying that a severe toothache can be a harrowing experience, but everything we do at St Dunstan's Dental Practice is actually aimed at preventing pain in the first instance or eliminating it during dental treatments.